Monumental sculpture
"THE SUN TOWN" by Luciana Matalon
This sculpture "Città-sole" on which I have been thouroughly working on and following, detail after detail, for two years, has been placed in Netanya, in Israel, as an homage to my mentor, who sadly is not with us anymore. The city of Netanya has dedicated their large square in front of the sea, where my sculpture has been located, to my husband, by naming it "Beniamino Matalon". Ideologically my sculptures are to be seen as islands at sun down, capable of making us forget the prisons of dull days, islands in which we can collect the insomniac stellar arcipelagus, insomniac as my nights, in which my mind floats towards the impossible oblivium.
My need to make sculpture started 38 to 40 years ago and is part of the three-dimensional aspect of my paintings of the 60's and 70's. Back then, my restlessness was looking for something that could break limits and find new dimensions. So I started to furiously attack the first dimension, the canavas/barrier, with cuts and rippings, to let the gesture and the light breakthrough and overpass it's boundaries. I then divided the canvas in parts by using PVC combustions, and brought the material, soaked in acrilic colors, to it's limits in order to obtain objects which could conqueror new spaces. I then realized that painting did not satisfy me anymore and sculpture become to me of the utmost importance. My intentions with sculpture were to capture the lightness, the wind and light, the tangled thoughts of our minds, the silences. Sculpture, though, needs material, it requires it. But material means weight, volume, concentration of space. So I attack it, I alter it, I open it, I break it. I practice glifi to search the carverns of the earth for traces of ancient alphabets, drowned in the wrinkles of time. Those are clefts that imprison remote memories, mysterious silences that release fulminating energies. Through these tears I let light and the changing sesons with their multiple colours, penetrate inside the sculpture and breath into shadows and projections, continoulsy diverse one for the other. I also build apses and castles which sit on impossible staircases that can be reached only by climbing steps of poetry.
I am a citizen of the world and I ask for continous changes, so I can feel like a charging battery ready to acknowledge different realities and to expose my mind to new confrontations and verifications. Painting and sculpture means to me a faithful abandonment to my desire to tell, with storming truthfullness and invention, my means are to flee, to confess, to be absolved, to be free to play with my thoughts. If I had to translate and explain the meanings of my signs, cuts, symbols, metaphors, allegories and so on, that are the whispered voice of my work, I would irreparably uncover it's fascinating ambiguity.
Luciana Matalon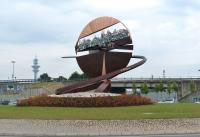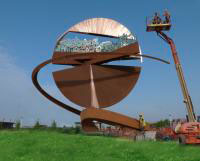 "THOUGHTS ABOUT THE SUN TOWN" by Arturo Schwarz
The artist – who's been an active sculptor for 35 years – worked for more than two years to complete Sun-City. Besides a more general aesthetic approach, great care was given to details which could at first appear secondary but are in fact essential.
Thus, Luciana Matalon focused on the noble purpose of taking the visitor – quoting her words – "towards a evening island able to let us forget the prisons of dull days, island in which we can collect the insomniac stellar archipelagos, insomniac as my nights, in which my mind floats towards impossible oblivions".
The sculpture is made up of a great disc, with a diameter of over 6 meters and a depth of half a meter, pitched on a narrow, spiral branch, which exalts its apparent lightness and elevates it into the air. The disc has been cut into various sections, rotated so as to give them volume and grace. […]
Luciana Matalon's sculpture is metaphorically bond to the world, all of its doors and windows are wide open, so as to let in the wind and the light. From dawn to dusk, the light modifies its appearance constantly; the wind, blowing through its structure, plays the living music of nature. The beauty of the sky of Israel, with the passing of seasons, works here as an ideal landscape which adds a temporal dimension to this work of art of great poetry.
Arturo Schwarz, February 2007